Barbara Bouchet in Inquisition Nunsploitation Film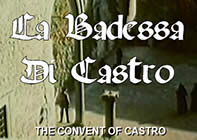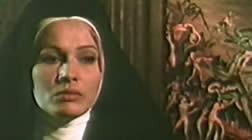 Original Italian Title: LA BADESSA DI CASTRO [the Abbess of Castro]
also known as THE ABBEY OF CASTRO and CASTRO CONVENT

director: Armando Crispino
starring: Barbara Bouchet · Pier Paolo Capponi · Ida Galli (as Evelyn Stewart) · Antonio Cantafora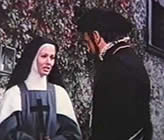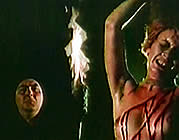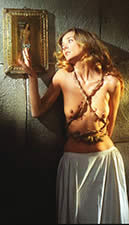 Barbara Bouchet plays Elena di Campireali, a young woman (circa 1550) forced into the 'Convent of the Visitation of Castro' by her mother in an attempt to stop Elena's affair with an undesirable suitor. Once enrolled, she quickly advances to the Mother Superior position - due to her family's power and wealth - thus incurring the hatred of rival nun Margherita. Eventually, Sister Elena is seduced and impregnated by womanizing Bishop Francesco Cittadini, an event that leads to a fullscale torturous Inquisition.
   This film is based on the 1839 novel by French writer Stendhal (alias Henri Beyle) and has been the source material for numerous other nunsploitation films (NUNS OF ST ARCHANGEL, BEHIND CONVENT WALLS, et al). Director Armando Crispino is mostly associated with quirky horror films, notably ETRUSCAN KILLS AGAIN and Spaghetti Westerns (JOHN THE BASTARD). Mr Crispino died in October 2003 at age 78 from a heart attack.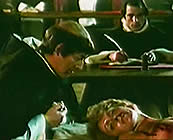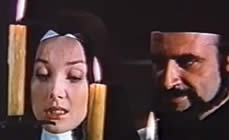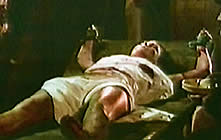 An Italian film with English subtitles; fullscreen format, uncut (93 minutes),
DVD encoded for ALL REGION NTSC WORLD FORMAT. Extras include trailers.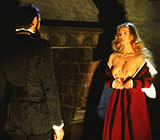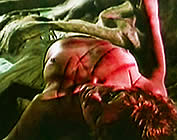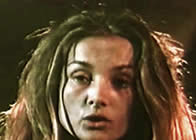 Sexual Themes/Nudity/Graphic Violence/Sexual Brutality/Inquisition Torture
For Mature Audiences