Superhero GOLDFACE goes after archfiend COBRA in odd Italian Actioner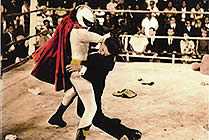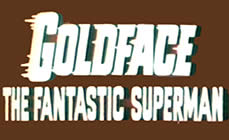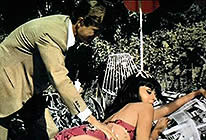 Original Italian Title: GOLDFACE IL FANTASTICO SUPERMAN [Goldface the Fantasitic Superman]

director: Bitto Albertini (as Stanley Mitchell)
starring: Espartaco Santoni (as Robert Anthony) · Evi Marandi · Attilio Severini (as Big Matthews)
editor: Bruno Mattei (as Jordan B Matthews)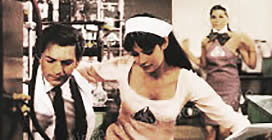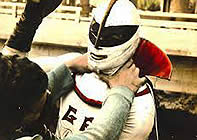 While Bitto Albertini's film does share similarities with the Mexican Luchador movies, those guys [Santo, Blue Demon, et al] would take their identities to the grave, while Goldface is like a typical comic book superhero... by day he's Dr Villar, a respected scientist, but - when he takes off the lab coat - he becomes Goldface, a masked wrestler and crime fighter. Goldface has a sidekick, a black manservant named Kotar who actually does call his boss B'Wana and sometimes slips into (embarrassing) ooga booga speak. For this story, Dr Villars learns that the world is being held hostage by a fiend named Cobra and his masked commandos. Cobra threatens to destroy all plant life unless he's paid 2 million dollars. Goldface accepts the mission of finding and stopping Cobra.
Bitto Albertini started in the Italian film industry as a cinematographer in 1948. He directed his first film in 1967 and went on to make 40 more between 1967-1985. His resume includes thrillers, SciFi, Spaghetti Westerns, action flicks and superhero movies [like the Three Supermen series]. But he is best remembered for the film which introduced Laura Gemser to stardom, BLACK EMANUELLE. Over the years, Bitto used numerous pseudonyms including Al Albert, Albert J Walker, Ben Norman and Stanley Mitchell. Mr Albertini died from a heart attack in February of 1999. He was 74 years old..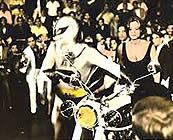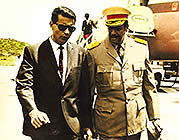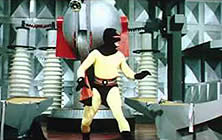 An Italian film in English language; fullscreen format (4:3), uncut (92 minutes), DVD encoded for ALL REGION NTSC WORLD FORMAT.