Ravished! Violated! Possessed by Satan!
Incredible Euro-Trash from Cult Fave Roy Garrett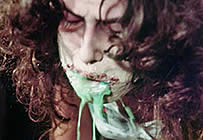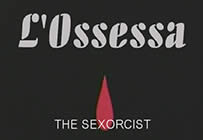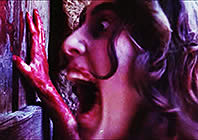 Original Italian Title: L'OSSESSA [The Possessed]
also known as ENTER THE DEVIL and EERIE MIDNIGHT HORROR SHOW and THE TORMENTED

director: Mario Gariazzo (as Roy Garrett)
starring: Stella Carnacina · Chris Avram · Lucretia Love · Ivan Rassimov · Gabrielle Tinti · Luigi Pistilli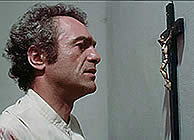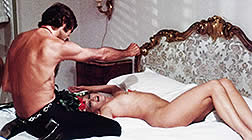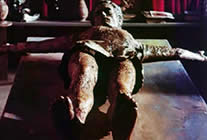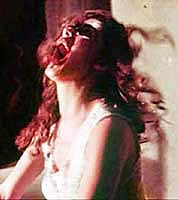 A pretty young artist named Danila is hired to restore a life-size wooden statue of Jesus. The poor girl also has some severe sexual hang-ups caused mostly from watching her high-society mother, Luisa, getting whipped and brutalized by her domineering lover. While refurbishing the wooden Christ, she becomes possessed by Satan trapped inside. The statue comes to life, rapes the girl, and fills her with evil. Danila - now out of control - curses and attacks mom, attempts to seduce her father, vomits green goo, and then meets Father Xeno for an exorcism.
This is wildly entertaining genre cinema - probably the best of the Italian Exorcist rip-offs - with an exceptional cast (punctuated by beautiful 30 year old Lucretia Love playing the mother of 22 year old Stella Carnacina! Hmm. Odd, but who cares?).
Director Mario Gariazzo had a varied career, drifting from genre to genre without ever settling into a particular style or technique (although he did seem to have an obsession with lurid photographer stories). Mario initially got established, using the alias Robert Paget, in a string of Spaghetti Westerns, (best known for DRUMMER OF VIOLENCE and AQUASANTA JOE) before dabbling in many other cult formats from SciFi (EYES BEHIND THE STARS) to sexy lowbrow SciFi (VERY CLOSE ENCOUNTERS OF THE FOURTH KIND), from the cannibal/ jungle genre (WHITE SLAVE) to decadent erotica (INTRIGUE OF LOVE), and from a remarkably trashy Giallo (PLAY MOTEL) to this sleazy possession film. Mr Gariazzo died from cancer in March 2002 at age 71. Exploitation cinema misses him.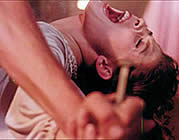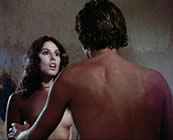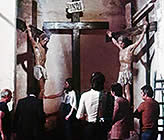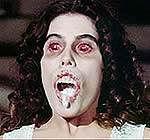 An Italian film in English language; widescreen format (16:9), uncut (88 minutes), DVD encoded for ALL REGION NTSC WORLD FORMAT. Extras include theatrical trailers.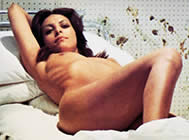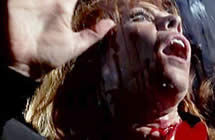 Gore/Strong Sexual Situations/Violence/Nudity/Whipping/S&M/Sexual Brutality:
Recommended for Mature Audiences