Director of Mr Vampire adds Wagonloads of Erotica to the Vampire Tale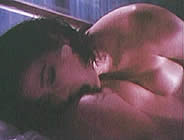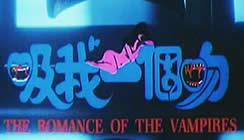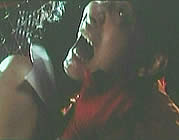 Original Chinese Title: XI WO YI GE WEN

director: Ricky Lau (Lau Chang Wei)
starring: Yip Wing Cho · Ben Lam (Chung Kwok) · Billy Chow · Usang Yeung Fang · Yung Hung · Ricky Ng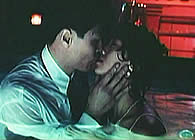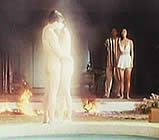 A woman (played by nomadic beauty Usang Yeong Fang from BEAUTY EVIL ROSE) grieves over her husband's corpse at rest in a glass coffin. The estate lawyer makes the mistake of accepting a date with the flirtatious widow. After some frenetic sex in an alleyway, she plunges her fangs into his neck and drinks heartily. Switch to Rainbow (Yung Hung from CHINESE TORTURE CHAMBER STORY), a blind girl who turns the occasional trick for an escort company where her mother works as a phone-sex operator. Rainbow has a goal of saving up money for a retina operation. Meanwhile, the (un)dead hubby [from the first segment] is now awake and feeds from his wife's fresh supply of people juice. Apparently not satisfied after making love in the crystal casket, he visits a whorehouse and notices Rainbow's picture on a nightstand. Could it be? The woman in the picture is identical to his lost love from a decade past. Thus begins an interesting love triangle with horrific overtones.
Director Ricky Lau attempted to expand the landscape of his 1984 hit MR VAMPIRE by adding heavy doses of sex and nudity to the standard vampire storyline. He also tones down the slapstick humor which usually permeates his films. The result is a decidedly erotic endeavor that probably should have delivered a bit more horror.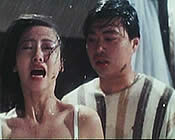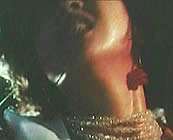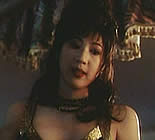 A Hong Kong film with English subtitles; widescreen format (16:9), uncut (94 minutes), DVD encoded for ALL REGION NTSC WORLD FORMAT. Extras include theatrical trailers.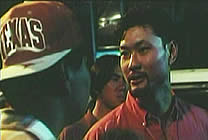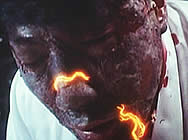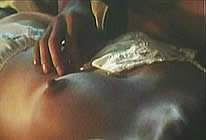 Sexual Situations/Violence/Nudity/Sexual Brutality:
Recommended for Mature Audiences