An 8 Year Old's Wish to be 18 comes true Overnight
in Cash Chin's Perverse Cat III Sex Tale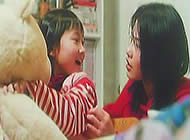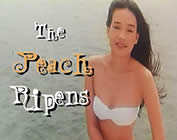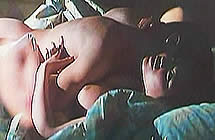 Original Chinese Title: MI TAO CHENG SHU SHI [The Peach Ripens]
also known as THE FRUIT IS SWELLING

director: Man Kei Chin (as Cash Chin)
starring: Jane Chung (Chun Chung) · Stephanie Fong · Christine Hung · Shu Qi · Maggie Wong · Elvis Tsui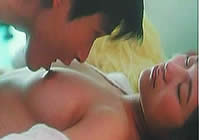 The narrator for the film is Shu Qi. She appears in her bikini on the beach and explains the dangers of wishing for something that's beyond comprehension... like when 8 year old Peach longs to be ten years older so she can experience sex. When little girl Peach (played exquisitely by Maggie Wong) asks the Sacred Tree to make her all grown up, she wakes the next day to discover her wish has come true. Adult Peach (rather, of-age Peach) is now a foxy teenager on a mission to discover what sex is all about.
This film is an odd - almost disconcerting - mixture of tenderness and rough Category III soft-porn, a naughty version of the Tom Hank's film Big. Director Man Kei Chin (better know to his fans as Cash Chin) has always pushed the envelope to the brink. His motion pictures from THE ETERNAL EVIL OF CHINA to SEX AND ZEN 2, from 33D INVADERS to SEX AND CHOPSTICKS to NAKED POISON are the very essence of Asian Cult Cinema. Add this one to that list.

A Chinese film with English subtitles, widescreen print (16:9); totally uncut version (90 minutes), DVD encoded for ALL REGION NTSC WORLD FORMAT. Extras include trailers.