Sleazy Horror Thriller starring Marina Malfatti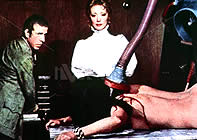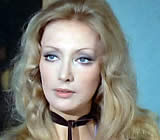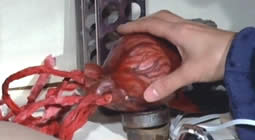 Original Italian title: IL PRATO MACCHIATO DI ROSSO [The Meadow Stained in Red]

director: Riccardo Ghione
starring: Marina Malfatti · Enzo Tarascio · Daniela Caroli · George Willing · Claudio Blava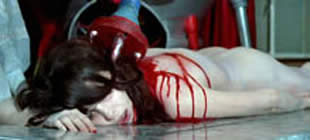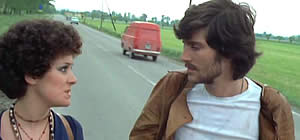 Very much a product of the early '70s, this ultra-rare perverse horror film is an hallucinatory variation of Ted V Mikels' CORPSE GRINDERS (instead of squashed bodies-turned-into-catfood, drained blood becomes wine). The grisly concept is further punctuated by director Ghione's unique social commentary. Specifically, the story deals with group of socially privileged aristocrats (a husband, a wife, and the wife's brother) who drive around the countryside picking up and 'rescuing' the dregs of society - prostitutes, drifters, hitchhikers - to take them back to their isolated villa (with its weird crimson-colored 'bloodstained' lawn). The vagrants are entertained with drinks, weird drugs and a wild sex orgy before getting hooked up to a robotic machine that drains the blood from their bodies. The rich threesome then packages and sells the blood as a high-ticket wine.
Marina Malfatti shines in the role of Nina Genovese, a no-nonsense hard-as-nails bitch who masterminds the events with her husband, the flamboyant Doctor Antonio. However, she is secretly in love with her brother, Alfiero. Ms Malfatti starred in numerous Spaghetti Westerns (including BLACK KILLER) and Giallos (ALL THE COLORS OF THE DARK), but she is probably best known for her performance in THE NIGHT EVELYN CAME OUT OF THE GRAVE. After 45+ films, she retired in 1996. Ms Malfatti died in her sleep at age 83 in June 2016.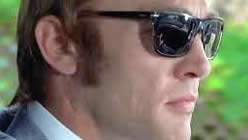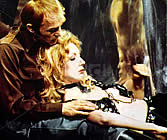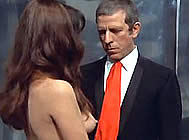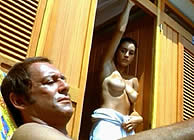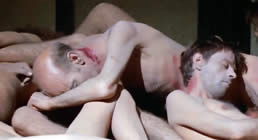 An Italian film with English subtitles; widescreen format 16:9,
uncut European version (82 minutes), extras include theatrical trailers.
DVD encoded for All Region NTSC World Format.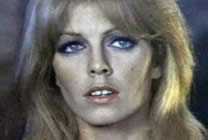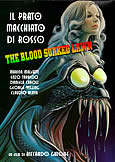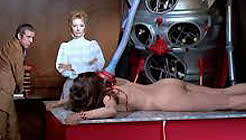 Sexual Theme/Graphic Violence/Nudity/Drugs//Sexual Brutality
for Mature Audiences