Lamberto Bava's story of Inquisition, Demons and Madness in the Alps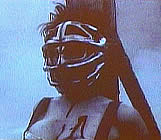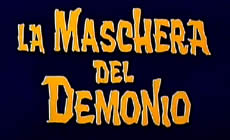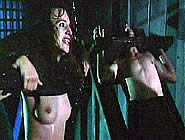 Original Italian title: LA MASCHERA DEL DEMONIO (The Mask of Satan)
also known as MASK OF THE DEMON and DEMONS 5 and DEVIL'S VEIL

director: Lamberto Bava
starring: Deborah Caprioglio (Deborah Kinski) · Giovanni Guidelli · Eva Grimaldi · Michele Soavi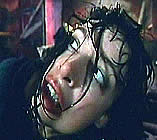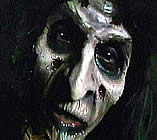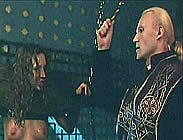 This is not a remake of Mario Bava's MASK OF SATAN. While there are some similarities, Lamberto Bava is more interested in creating a new narrative merely inspired by his father's classic tale. For the lack of a better word, this should actually be considered an homage.
A group of friends have been dropped off (by helicopter) to go skiing in the upper wilderness of the Swiss Alps. Before long their idyllic excursion turns into a nightmare when they get trapped in a collapsed crevasse. The young people discover a rotting frozen corpse with a Devil's Mask nailed into its head and discover they have fallen into an abandoned tomb which housed executed heretics from centuries before. One of the kids decides it would be a good idea to scare others in his group with the mask, but this blasphemy only causes more trouble, leaving them scurrying about until rescued by a mysterious monk. The young people don't seem to appreciate the impending danger but soon they become victims of resurrected demons, vicious torture sessions and sudden gruesome death (i.e., being skewered by giant falling icicles).
Big-breasted Deborah Caprioglio was engaged to Klaus Kinski prior to his death; she co-starred in his PAGANINI as 'Deborah Kinski' and made this film for Lamberto Bava a few months later. She became better known after Tinto Brass chose her to star in his erotic comedy Paprika (1991). The following year she made SMILE OF THE FOX for Sergio Martino. In September 2008, Ms Coprioglio married actor/ director Angelo Maresca, the first-born son of aristocrat Duke Aurturo Maresca of Italy. Most of her acting in the past 20 years has been for Italian television, currently she plays Francesca in the hit series 'Questo Nostro Amore' (What Is Love).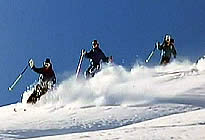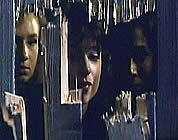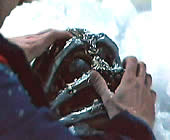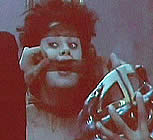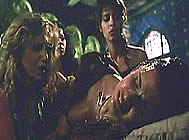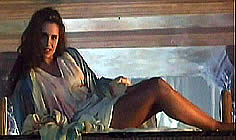 An Italian/Spanish co-production with English subtitles; widescreen format (16:9), totally uncut version (94 minutes), DVD encoded for ALL REGION NTSC WORLD FORMAT. Extras include trailers.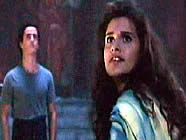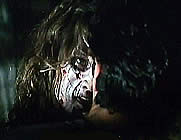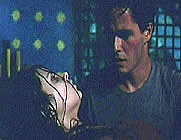 Graphic Violence/Sexual Themes/Nudity/Sexual Brutality/Inquisition torture
for Mature Audiences