An Ancient Mayan Curse Wrecks Bloody Havoc in Venezuela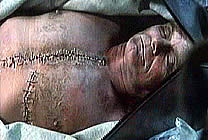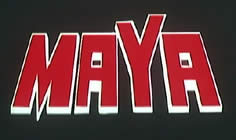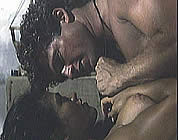 director: Marcello Avallone
starring: Peter Phelps · Mariella Valentini · William Berger · Mariangelica Ayala · Mirella D'Angelo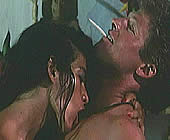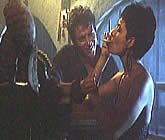 Euro veteran actor William Berger stars as Dr. Slivak, a scientist murdered while studying a Mayan pyramid in Venezuela. His death instigates a series of bizarre supernatural murders (which include a rapist getting his leg crushed by a truck before his head is impaled by a metal pole, a naked Latino babe has her face bashed in by an unseen force while taking a bath, another female victim is suspended by fishing hooks in her neck, etc). Meanwhile, Lisa Slivak - the scientist's daughter - travels to Venezuela to identify the body of her father. She and an old friend try to solve the mystery of the Maya after the police brush them off.
Director Marcello Avallone is a fringe member of the Italian film industry. He studied acting in the early fifties and landed a role in Dino Risi's comedy Poor but Beautiful (1957); afterwards, he became a line-producer and script consultant for Titus Studios. He helmed a couple documentaries in the early seventies and then landed the writer/director position for the Italian horror film SPECTERS. Mr Avallone followed that project with this ambitious film. He drifted away from filmmaking for 15 years before getting tapped to make a big-budgeted 3D version of Henry James' ghost story Turn of the Screw in 2008. Unfortunately, that project crumbled into disaster, hemorrhaging massive amounts of money before finally getting canceled. Today, at age 80, Mr Avalone appears to have retired from the business.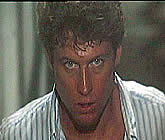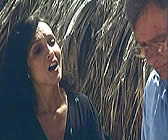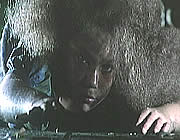 An Italian film in English language; widescreen format (16:9), totally uncut version (92 minutes), DVD encoded for ALL REGION NTSC WORLD FORMAT. Extras include trailers.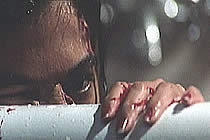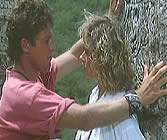 Graphic Violence/Nudity/Sexual Brutality/Gore/Drugs
for Mature Audiences