A Rare Historical Actioner from director Antonio Margheriti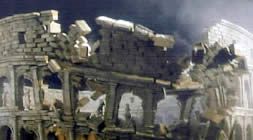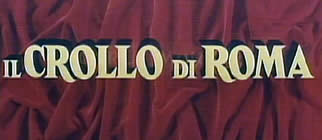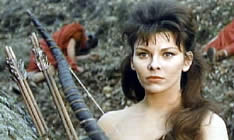 director: Antonio Margheriti (as Anthony Dawson)
starring: Carl Mohner · Loredana Nusciak · Ida Galli · Andrea Aureli · Maria Grazi Buccella · James Dolen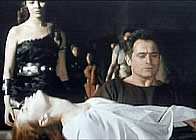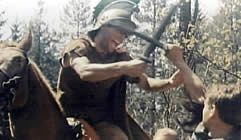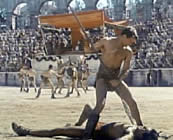 Not to be confused with Anthony Mann's bloated Hollywood spectacle The Fall of the Roman Empire in 1964, this Italian actioner was directed the year before by Italian cult fave Antonio Margheriti. The story begins shortly after the death of ruler Constantine, as regional successor Junio resumed the practice of persecution against Christians. Among those suspects was a centurion named Marcus who manages to escape the round-up with his sister Licia. They embark on a journey to the consul Gaius searching for asylum. Roman soldiers are searching the countryside for Marcus and his sister is killed in a scrimage. A tribe of barbarians come to his rescue and before long Marcus becomes friendly with female fighter named Svetla. Eventially, Marcus is promised freedom for all Christians if he agrees to fight in the arena. He and Svetia accept the challenge. But then during the tournement, Rome is ravaged by a sudden, deadly earthquake.
Antonio Margheriti made 60 movies in the 40 years between 1960 and 2000. He is best known for Lee Van Cleef's Spaghetti Western STRANGER AND THE GUNFIGHTER and the horrific CANNIBAL APOCAPYPSE. However, he is generally accepted as one of the ten best European Cult Directors. Mr Margheriti died from heart failure at age 72 in November 2002.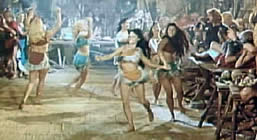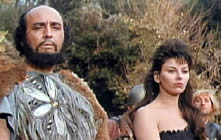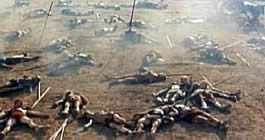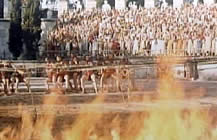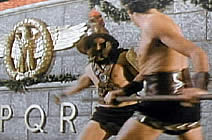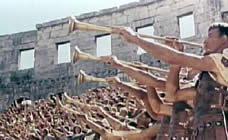 An Italian film in English language with optional Greek subtitles; widescreen format (16:9), fully uncut version (89 min.), DVD encoded for ALL REGION NTSC, playable on any American machine. Extras include trailers.