Another Landmark Exploitation Film from Legendary Cult Director Joe D'Amato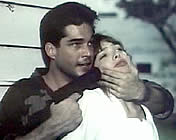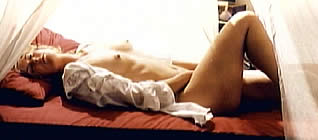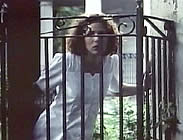 Original Italian Title: IL DIAVOLO NELLA CARNE (Devil in the Flesh)

director: Joe D'Amato (Aristide Massaccesi)
starring: Carmen Di Pietro · Tracy rey · Nicole Grey · Jennifer Loeb · Robert La Brosse · Wayne Camp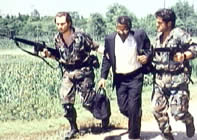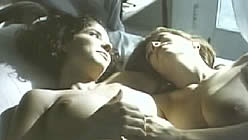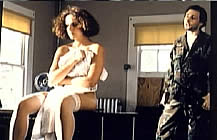 Money-crazed mercenaries Sammy and Klaus are on a mission to escort the seriously ill Prime Minister (of an unnamed South American country) to safety beyond the border. Rebel forces have a different agenda; they are desperate to find and kill the prime minister. The two mercenaries stumble upon an infirmary, hidden away in the jungle, staffed by four nurses. Sammy and Klaus immediately bully their way into the clinic and take the women hostage. Of course, the women are expected to nurse the Prime Minister back to health but they are also expected to satisfy the insane sexual lust of the two men. After a rape, Helga (buxom Carmen Di Pietro) begins to develop romantic feelings for Klaus; meanwhile, Sammy can't get enough of Katrin. However, the flames of passion are quickly doused when the rebel forces discover and invade the infirmary.
Joe D'Amato (real name Aristide Massaccesi) was a fearless film director. From his wildly erotic movies in the '70s (culminating with EMANUELLE IN AMERICA) through his revolutionary '80s horror films (BUIO OMEGA: BEYOND THE DARKNESS and PORNO HOLOCAUST) Joe D'Amato was willing to cross any cinematic boundary to create the ultimate exploitation movie. He made 200+ films between 1962-1998, but his career came to an end with a heart attack in January 1999. He was 62 years old.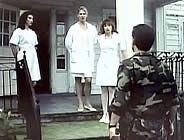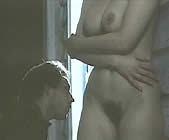 An Italian film in English language; fullscreen format (1.55:1), fully uncut version (87 min.), DVD encoded for ALL REGION NTSC, playable on any American machine. Extras include theatrical trailers.