Luigi Batzella's Fully Uncut, Uncensored Print!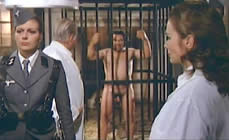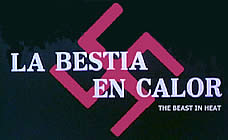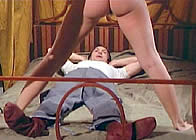 also known as SS HELL CAMP (edited USA Print) and HORRIFYING EXPERIENCES OF NAZI SS

director: Luigi Batzella (as Ivan Kathansky)
starring: Brad Harris · Macha Magall · Kim Gatti · Xiro Papas · Gino Turini · Sal Boris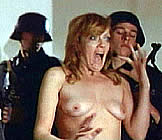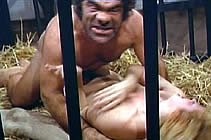 Often cited as the roughest, most extreme of the Nazi Exploitation film (especially after it was signaled out as a Video Nastie and banned in the UK), this film is now finally available uncut. Meet the diabolical Dr Krast, a sadistic female Nazi scientist who creates a barbaric sex-crazed Neanderthal beast who feed upon the beautiful women tossed into his cage. The demented doctor will stop at nothing to further her series of depraved experiments on human guinea pigs.

Some of the actors were so horrified by the content of this film that they opted to have their names removed from the credits. One of those was Brad Harris [best known for many Historic actioners (e.g., FURY OF HERCULES)]; he has the major role of rebel soldier Don Lorenzo here, but didn't claim it.
Director Batzella is better known as a character actor. He has appeared in 30+ films, usually performing under his Paolo Solvay alias (i.e., playing a police investigator in both NIGHTS OF VIOLENCE and BLOODSUCKER LEADS THE DANCE). As a filmmaker, Luigi Batzella has directed a dozen movies. He often used the Solvay pseudonym but sometimes he signed the features as Paul Hamus, Dean Jones or - in this case - Ivan Kathansky. In addition to BEAST IN HEAT film, he is best known for SLAUGHTER OF THE VAMPIRES and NUDE FOR SATAN. Mr Batzella died from Parkinson's Disease in November 2008 at age 84.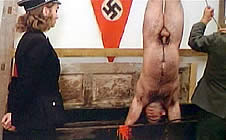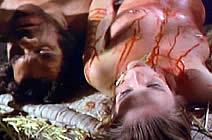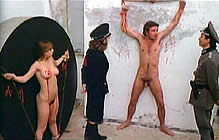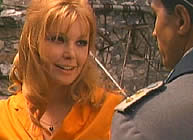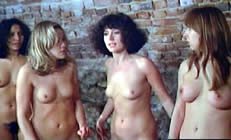 An Italian film in English language; widescreen format (1.85:1), fully uncut version (87 min.), DVD encoded for ALL REGION NTSC, playable on any American machine. Extras include theatrical trailers.