Pasquale Fanetti's Dark World of Distorted Sexual Fantasies starring Malu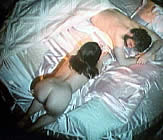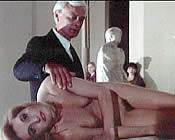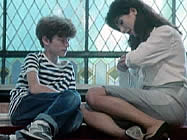 director: Pasquale Fanetti [Frank De Niro]
starring: Malu · Branko Djuric · Lidja Zorkic · Slobodan Negic · Izudin Bajrovic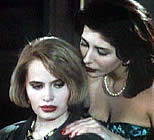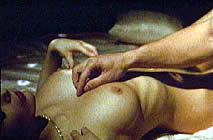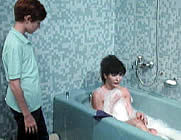 Florentine is a young, beautiful woman who feels abandoned by her husband's preoccupation with his position at the Art Museum. Believing that he has lost interest in her, Florentine turns to her friend Dorothy for advice. The two women soon share the bed. Dorothy then introduces Florentine to a young stud for more uncomplicated sex. Meanwhile, Florentine's stepson begins spying on mom and even sneaks under the dinner table for a close look at her twat (she pic below). As it turns out, Dorothy had been working with Florentine's husband who is secretly a voyeur hiding in dark closets enjoying his wife's extracurricular activities. Things take an even more unusual turn after Florentine discovers the truth.
Pasquale Fanetti (better known by his Frank De Niro pseudonym) is probably the sleaziest of all the Italian filmmakers. He has the shameless ability to linger over each scene with a leering intensity unparalleled in erotic cinema. He was most prolific in the early Nineties, often taking his crew to an exotic country for the shoot (this one was shot in Turkey) but most all his movie starred Malu [real name Ileana Carusio] in the lead role. Certainly she was his muse, but some sources also suggest a romantic link between the two. Often, Mr Fanetti would work as a cinematographer for another notorious sleaze director, Lawrence Webber (Lorenzo Onorati). For example, the two worked together on the seminal Ancient Roma trash film FLAVIA.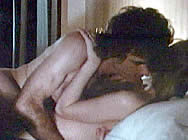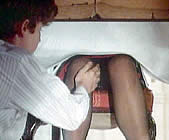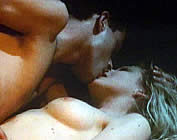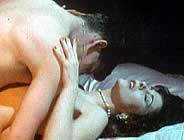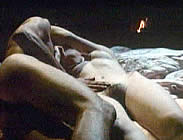 An Italian film in English Language; fullscreen format (4:3), totally uncut version (81 min.), DVD encoded for ALL REGION NTSC, playable on any American machine. Extras include theatrical trailers.