Here is An Opportunity to See This Legendary S&M Exploitation Film
But please note: the film has never been translated into English
This Movie is in Italian Language only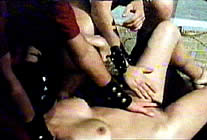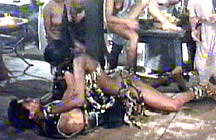 director: Lorenzo Onorati (as Lawrence Webber)
starring: Mary Ann Levine · Rita Silva · Jacqueline Lorians · Jonathan Ford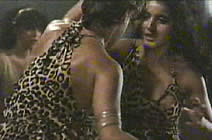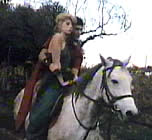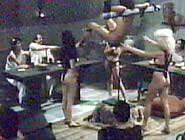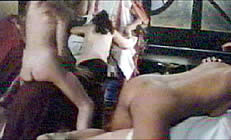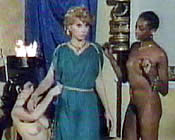 Notorious sleaze director Lorenzo Onorati [using his more familiar Lawrence Webber pseudonym] made this film back-to-back with his SLAVES OF CALIGULA. At the time, he expected his Caligula movie to get a wider release so, for that one, he concentrated more on story with a significant historical perspective. On the other hand, this second film was a guilty pleasure for Onorati. He was noticeably less concerned with plot and more interested in pure exploitation. As such, FLAVIA is filled with an abundance of gratuitous nudity, sexual situations, catfights, and lavish torture sequences. In fact, as genre fans have pointed out, this motion picture contains five different whip sequences.
Mary Ann Levine stars in both SLAVES OF CALIGULA and this one. Here, she plays the title role of Flavia, a slave who works in a brothel of ancient Rome. This state-of-the-arts pleasuredome offers a wide variety of pleasures from the usual fuck-n-suck fare to crowded orgy rooms, from perverse sex devices [see bottom right photo] to sadistic torture chambers. The high-ranking consul Valerius Augusto (played by vet Aldo Sambrell) is a regular client of this brothel and he has become infatuated with the charms of Flavia. But there is also a young fighter who has taken an interest in the girl. The result is certain to cause strife, retribution and a bloody clash.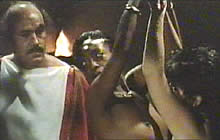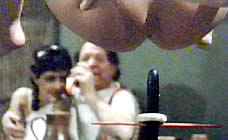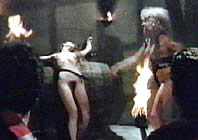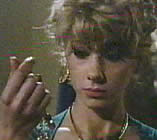 An Italian film in Italian Language Only (No English); widescreen format (16:9), totally uncut version (73 min.), DVD encoded for ALL REGION NTSC, playable on any American machine. Extras include theatrical trailers.
Sexual Situations/Nudity/Violence/Sexual Brutality/Prostitution/S&M/Whipping
For Mature Audiences Only