Takashi Miike Delivers an Insane Macabre Masterpiece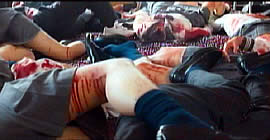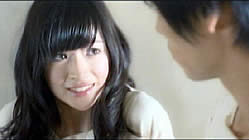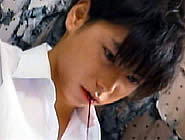 director: Takashi Miike
starring: Sota Fukushi · Kamiki Ryunosuke · Yuki Mio · Yamazaki Hirona · Someya Shota · Omori Naoas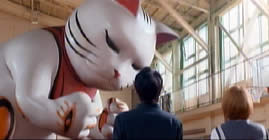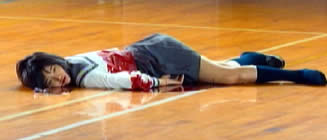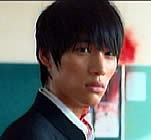 What if BATTLE ROYALE were a cartoon? Would it look like this Takashi Miike film? It sure would.
Takashi Miike takes his madness-in-high-school motif (as last seen in LESSON OF EVIL) a logic-defying step further. This adaptation of the manga by Muneyuki Kaneshiro and Akeji Fujimura has been described by many critics as the successor to Kinji Fukasaku's 2000 high school bloodbath BATTLE ROYALE. The two films do share similarities. But Miike - as usual - rockets the entire spectacle into outer space! The result is a motion picture that's absurdly simple, yet impossible to accurately explain.
Fukushi Sota plays high school student Shun Takahata, a boy so bored with life he asks God to throw some excitement his direction. Within seconds of his prayer, Shun gets his wish. After going to his next class, Shun finds himself trapped in the classroom with his friends while a daruma doll starts exploding heads as part of a sick game. Then, after narrowly escaping the bloody carnage, he and girlfriend Ichika take shelter in the gymnasium. But they are instantly challenged by a giant good-luck cat intent on squashing them to death. As it turns out, this sort of insanity is happening all over Japan (and the world); young people are losing their lives in deadly (impossible) battles which are orchestrated by mysterious aliens hovering above cities in gigantic cubes.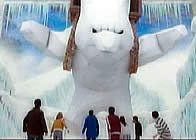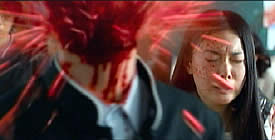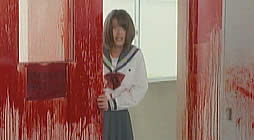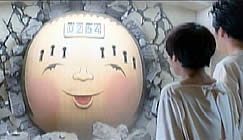 A Japanese film with optional English, Chinese or Malay subtitles; widescreen format, totally uncut version at 117 minutes, DVD encoded for ALL REGION NTSC WORLD FORMAT. Extras include theatrical trailers.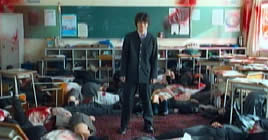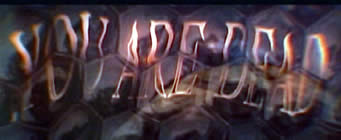 Graphic Violence/Gore
for Mature Audiences