Produced and Written by Dario Argento and Lucio Fulci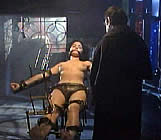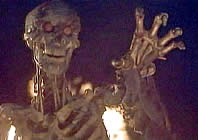 Original Italian Title: M.D.C. MASCHERA DI CERA

director: Sergio Stivaletti  |  written by Lucio Fulci
starring: Robert Hossein · Romina Mondello · Riccardo Serventi Longhi · Gabriella Giorgelli · Valery Valmond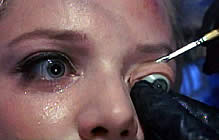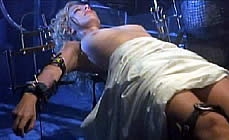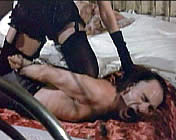 The film opens in Paris circa 1900. A couple is brutally murdered by a masked man with a metal claw who rips hearts out. The sole survivor is Sonia, a very young girl, who has been traumatized by the massacre. Twelve years later a new wax museum - specializing in recreations of gruesome murder scenes - opens in Rome. After a man is found murdered inside, Sonia takes a job assisting the museum director. Soon people start disappearing from the streets of Rome and the museum appears to somehow be involved.
Lucio Fulci became an Italian superstar after directing the sequel to DAWN OF THE DEAD in 1979 (called ZOMBIE in America) That film changed his life, putting him on a new success road which included a string of boxoffice hits that culminated with MURDER ROCK. Shortly after that film, Fulci entered a relationship with Dario Argento that called for him to write and direct a series of new motion pictures. The first project was to be this movie; he had finished the script and was prepared to start shooting. But in his personal life, Fulci had been suffering with diabetes for years. He went to bed without taking his insulin. Some say this was suicide; others, an accident. But sadly, Mr Fulci was dead at age 68 on March 13, 1996. Argento handed the script to his Special FX manager, Sergio Stivaletti, for production. The movie, "Dedicated To Lucio Fulci," remains a remarkable end to an extraordinary career.
.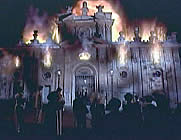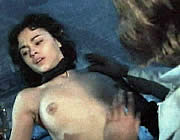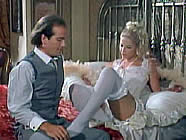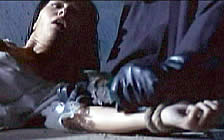 An Italian film in English language with optional Greek subtitles; widescreen format, uncut version at 97 minutes, DVD encoded for ALL REGION NTSC WORLD FORMAT.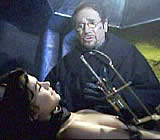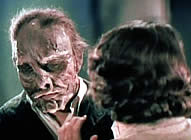 Graphic Violence/Nudity/Adult situations/Sexual Brutality/Drugs
For mature audiences