Original Italian Title: L'Monaca... per Tre Carogne e Sette Peccatrici
(The Nun... Three Bastards and Seven Sinners)
[a severely edited version was released under the title Big Bust Out]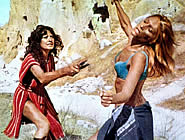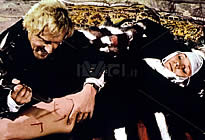 director: Richard Jackson (Ernest R von Theuner and Sergio Garrone)
starring: Tony Kendall · William Berger · Monica Teuber · Vonetta McGee · Patrizia Bardot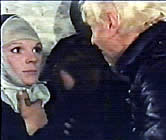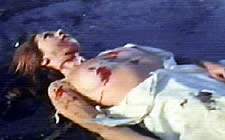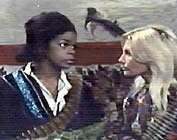 Seven women held in a Middle Eastern prison trick a nun into helping them escape. But they soon find the outside world is loaded with unimaginable evil and ugliness. Roaming bandits capture the girls and attempt to sell them into prostitution.
Director Sergio Garrone - best known for his extraordinary Spaghetti Westerns (e.g., DJANGO THE BASTARD and ROOM TO DIE) - wrote and co-directed this amazing excursions into raw exploitation. Mr Garrone left the film business in 1989 to open a chain of restaurants in Italy. Today he refuses to talk about his movies. Black actress Vonetta McGee used this Italian-made film as a springboard into the lucrative world of Blaxploitation. Upon her return to the States, she immediately landed roles in MELINDA, BLACULA, and SHAFT IN AFRICA. Vonetta rounded out her career with some Hollywood movies and much television work. Ms McGee died from a heart attack in July of 2010.
An Italian production in English language with Greek subtitles; widescreen format, totally uncut version (100 min.), DVD encoded for ALL REGION NTSC, playable on any American machine. Extras include theatrical trailers.