Fully Uncut Version, Running 9 Minutes Longer Than USA Print
Original Italian Title: LAGER DI STERMINIO (Extermination Camp)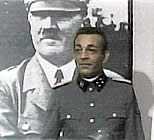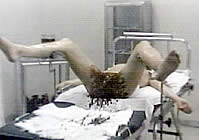 director: Bruno Mattei
starring: Ivano Staccioli · Lorraine De Selle · Ria de Simone · Nello Rivie · Gabriele Carrara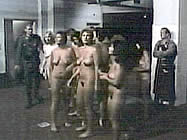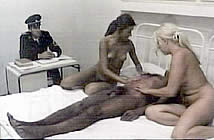 Italian filmmaker Bruno Mattei (often using his tongue-in-cheek pseudonym Vincent Dawn) is best known for his zombie movies HELL OF THE LIVING DEAD, ZOMBIES: BEGINNING and ISLAND OF THE LIVING DEAD, but he often dabbled in many other Euro exploitation venues, like JAIL: WOMEN'S HELL and this excursion into the Euro sleaze world of Naziploitation.
Popular Euro actress Lorraine De Selle plays prisoner named Maria Black at Nazi Camp 119. This extermination camp is the center of unconventional medical experiments performed by the Nazi SS doctors. Maria is ordered to serve as Dr. Meisel's assistant, giving her a front row seat for the horrific operations (which include everything from forced copulation with frozen dead soldiers to removal of a prisoner's fruitful uterus). These experiments merely serve as a backdrop for the extreme decadence at Camp 119. The inmates are systematically subjected to torture sessions, whippings, rapes, sexual brutality and much more.

An Italian production in English language with Dutch subtitles; widescreen (16:9), totally uncut version (97 min.), DVD encoded for ALL REGION NTSC, playable on any American machine. Extras include theatrical trailers.
Torture/Male and Female Nudity/Graphic Violence/Sexual Brutality/Homosexuality
For Adult Audiences