Fully Uncut (93 Min) English Language European Widescreen Print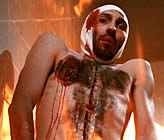 director: Jorge Grau
starring: Ray Lovelock · Cristina Galbo · Arthur Kennedy · Aldo Massasso · Giorgio Trestini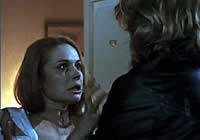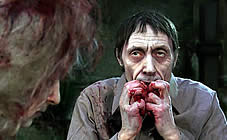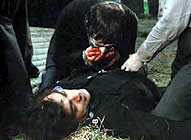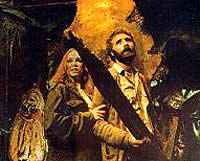 Notoriously bad distribution has kept this film from becoming the landmark motion picture it truly is. Here is the missing link. Arguably, it is the cornerstone - the virtual template - for the modern zombie film. Of course, George A. Romero kickstarted the genre with his seminal NIGHT OF THE LIVING DEAD (1968); further, many film historians claim he modernized it with DAWN OF THE DEAD in 1978. However, genre fans have been leery of the significant visual differences between the two films. This movie directed by Jorge Grau in 1974 is actually the bridge which links the dangling zombies together. Here's the introduction to the excessive gore and intense visuals which became the guiding rule of the genre. This film, which was a major hit in Europe, would have certainly been seen by Dario Argento and - since Argento was the producer of DAWN OF THE DEAD - one must presume he and Romero used this movie for inspiration.
The government's new agricultural pest-control machine - working with ultrasonic waves - has a deadly side-effect: it revives the dead. Soon the countryside is crawling with flesh eating zombies. A young couple, George and Edna, find themselves trapped in a small village where they must fight to stay alive.

This film has been released under a variety of titles in various edited forms. The original Spanish title was NO PROFANAR EL SUENO DE LOS MUERTOS [Don't Disturb The Sleep of the Dead]. In England (where it got banned as one of the first Video Nasties) it was called BREAKFAST AT MANCHESTER MORGUE and then later THE LIVING DEAD AT MANCHESTER MORGUE. A severely edited version was released in the United States as DON'T OPEN THE WINDOW.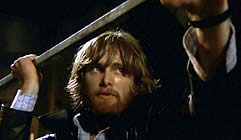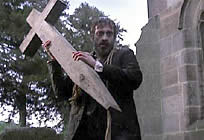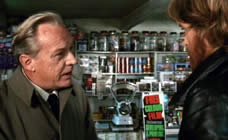 A Spanish/Italian co-production in English language; widescreen (1.85:1), uncut (93 minutes) in DVD encoded for ALL REGION NTSC, playable on any American DVD machine; theatrical trailers



Graphic Violence/Nudity/Drugs/Gore/Adult Material:
Viewer discretion is advised.