Femi Benussi (probably the best looking of all the Italian Cult Actresses)
plays Jungle Girl Tarzana... in total splendor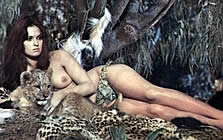 director: James Reed (Guido Malatesta)
starring: Femi Benussi · Ken Clark · Franca Polesello · Beryl Cunningham · Frank Ressell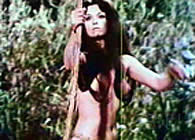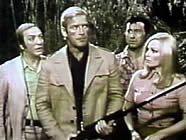 The late '60s gave birth to a number of Italian-made Jungle Girl films. Of those, GUNGALA is probably the best known due to a wider distribution. This one - of course - is the more notorious due to the producers decision to shoot it with a (constantly) nude Femi Benussi in the title role. That decision made the film more difficult to book (cinematic nudity wasn't quite as prevalent in the '60s, especially in the United States) and it was promoted with the notice: "Due to the explicit nature of this film no one under 18 will be admitted."
The story deals with a rich tycoon who organizes an expedition into the wilds of Africa after wreckage of his son's airplane is discovered. Apparently, his son, wife and baby had crashed in the jungle some 20 years before. The bodies of the adults (skeletons, actually) were found in the plane but there was no sign of the baby. She's now Tarzana, queen of the jungle. And rich grandfather wants to capture her and bring her home. Not everyone - including Tarzana herself - shares his ambition.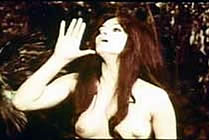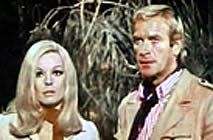 .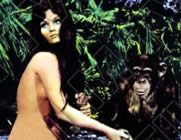 An Italian film; widescreen print, totally uncut version (86 min.), in English language, DVD encoded for WORLD FORMAT NTSC, playable on any American machine. Extras include theatrical trailers.  
Adult material/nudity
For Mature Audiences