Based on the story of Kuno 'Mosquito' Hoffman, the Vampire of Nuremberg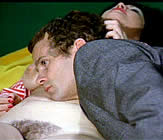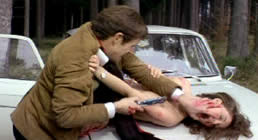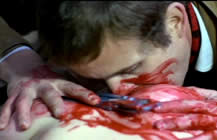 director: Marijan David Vajda
starring: Werner Pochath · Ellen Umlauf · Birgit Zamulo · Peter Hamm · Sonja Costa Marion Messner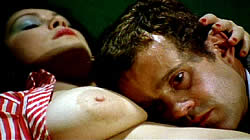 Based on the true story of Kuno 'Mosquito' Hoffman, known in Europe as the vampire of Nuremberg, here is Werner Pochath's finest - and most perverse - performance. Austrian born Pochath made almost a hundred films between 1960 and 1990, Usually, he was comfortable in supporting roles, starring in all types of genre films from Spaghetti Westerns to Euro Thrillers. He worked with all the B-Masters from Lucio Fulci to Sergio Martino to Dario Argento; one of his more memorable roles was for Anthony Ascot (Giuliano Carmineo) in RATMAN (1988). Seldom did Werner Pochath have the lead position, but here he rises to the challenge with an utterly frightening performance. Mr Pochath died of liver cirrhosis in 1993 at age 54.
Mosquito is deaf and dumb, thanks to a father who mercilessly beat him as a child. Today, he works as an accountant in a faceless bookkeeping company. He keeps to himself, lives alone with a collection of dolls and puppets. Mosquito is often the bullied by coworkers and neighbors. He enjoys watching a young 'slightly touched' neighbor woman dance in the foray. For fun, Mosquito likes to smash his dolls and lick catsup off his hands. Eventually, his mania intensifies and Mosquito starts breaking into funeral parlors and dismembers female corpses. His thin grasp on reality shatters after the dancing neighbor falls to her death from the roof of her apartment. Traumatized Mosquito resorts to sex and murder to relieve his depression.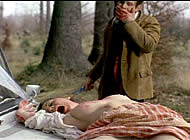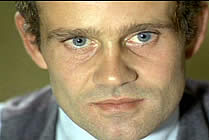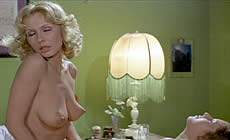 A Swiss/German co-production; widescreen, totally uncut version (87 min.), in English language with optional Greek subtitles, DVD encoded for WORLD FORMAT, ALL REGION NTSC, playable on any American machine. Extras include trailers and photo gallery.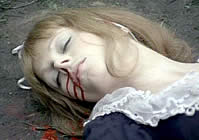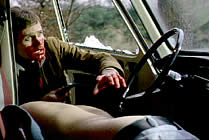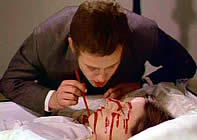 Nudity/Graphic Violence/Rape/Sexual Brutality:
For Mature Audiences