16 SPAGHETTI WESTERNS
Here is a Sixteen Film Collection of Euro-made Westerns
featuring Lee Van Cleef, Richard Harrison, Jack Palance, Klaus Kinski and Many More.
Each film is complete and uncut
These movies are in ENGLISH language.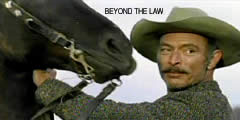 ·
·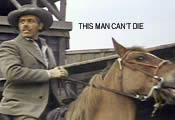 #1 BEYOND THE LAW (1968) [above left] widescreen
aka THE GOOD DIE FIRST (Al di la della Legge)
director: Giorgio Stegani starring Lee Van Cleef · Antonio Sabato Gordon Mitchell · Bud Spencer
A con man with a hidden agenda pretends to be the town's new sheriff.
#2 APACHE BLOOD (1975) [above center] Fullscreen
aka PURSUIT(She'e ee Clit Soak)
director: Vern Piehl starring: Ray Dalton · Dewitt Lee · Troy Nabors · Diane Taylor
An Indian chief takes revenge against white people after his village is destroyed.
#3 THIS MAN CAN'T DIE (1968) [above right] Widescreen
aka LONG DAYS OF HATE (I Lunghi Giorni dell'Odio)
director: Gianfranco Baldanello starring: Guy Madison ·Lucienne Bridou · Rosalba Neri
A government agent goes after a rich town boss who massacred his family.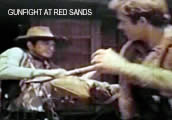 ·

·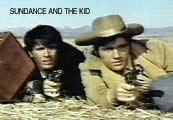 ·

#4 GUNFIGHT AT RED SANDS (1963) [above left] Fullscreen
aka GRINGO (Duello nel Texas)
director: Ricardo Blasco starring: Richard Harrison · Giacomo Rossi Stuart · Sara Lezana
A adopted son of a Mexican family fights racism in a Texas border town.
#5 DEATH RIDES A HORSE (1967) [above left center] Fullscreen
aka AS MAN TO MAN (Da Uomo a Uomo)
director: Giulio Petroni starring: Lee Van Cleef · John Phillip Law · William Bogart · Mario Brega
A young man teams with a gunfighter to track down the men who killed his family.
#6 SUNDANCE AND THE KID (1969) [above right center] Fullscreen
aka ALIVE OR PREFERABLY DEAD (Vivi...o Preferibilmente Morti)
director: Duccio Tessari starring: Giuliano Gemma · Nino Benvenuti · Sydne Rome · Julio Pena
Two estranged brothers will inherit uncle's fortune if they can live together for 6 months.
#7 TWICE A JUDAS (1968) [above right] Fullscreen
aka THEY WERE CALLED GRAVEYARD (Due Volte Giuda)
director: Nando Cicero starring: Klaus Kinski · Antonio Sabato · Cristina Glbo · Pepe Calvo
A wealthy land baron is running illegal Mexican workers across the border.

·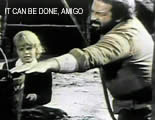 ·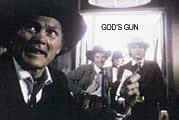 #8 THE GRAND DUEL (1972) [above left] Widescreen
aka BIG SHOWDOWN and STORM RIDER (Il Grande Duello)
director: Giancarlo Santi starring: Lee Van Cleef · Horst Frank · Peter O'Brien · Jess Hahn
A lawman protects a wrongly accused murderer from bounty hunters and vigilantes.
#9 IT CAN BE DONE, AMIGO (1971) [above center] Fullscreen
aka THE BIG AND THE BAD (Si Puo Fare...Amigo)
director: Maurizio Lucidi starring: Bud Spencer · Jack Palance · Renato Cestie · Dany Saval
A gunman tracks down Big Man Casanova for seducing his sister.
#10 GOD'S GUN (1976) [above right] Fullscreen
aka BULLET FROM GOD (Pistola di Dio)
director: Frank Kramer (Gianfranco Parolini) starring: Lee Van Cleef · Jack Palance
After a priest is killed in the streets of Juno City, his brother comes to take revenge.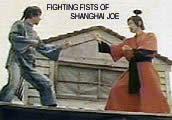 ·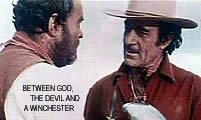 ·

#11 SHANGHAI JOE (1973) 87 minutes [above right] Fullscreen
aka FIGHTING FISTS OF SHANGHAI JOE (Il Mio Nome e Shanghai Joe)
director: Mario Caiano starring: Chen Lee · Klaus Kinski · Robert Hundar · Gordon Mitchell
A Chinese immigrant is torn between Buddhist ideals and lawlessness in America's West.
#12 BETWEEN GOD, THE DEVIL AND A WINCHESTER (1968) [center] Widescreen
aka GOD WAS IN THE WEST TOO (C'era una Volta Dio)
director: Dario Silverstri starring: Gilbert Roland · Richard Harrison · Ennio Girolami
Two different groups search for gold it this Western version of "Treasure Island"
#13 TRINITY AND SARTANA (1965) 91 minutes [above center right] Widescreen
aka THOSE DIRTY S.O.B.s (Trinita e Sartana: Figli Di...)
director: Mario Siciliano starring: Robert Widmark · Harry Baird · Beatrice Pella
Two banks robbers change their thieving ways and eventually become heroes.

·
·

#14 JOHNNY YUMA (1966) [above left] Fullscreen
director: Romolo Guerrieri starring: Mark Damon · Rosalba Neri · Lawrence Dobkin
Johnny Yuma fights for his inheritance against an evil murderess.
#15 FIND A PLACE TO DIE (1968) [above center] Widescreen
(Joe, Cercati un Posto per Morire)
director: Anthony Ascott (Giuliano Carmineo) starring: Jeffrey Hunter · Pascale Petit
A down-on-his-luck gunfighter agrees to help a brother and sister protect their mine.
#16 FISTFUL OF LEAD (1972) [above right] Fullscreen
aka I AM SARTANA, TRADE YOUR GUNS FOR A COFFIN (Vendi Pistole per Comprare Cofani)
director: Anthony Ascot starring: George Hilton · Charles Southwood · Erika Blanc · Rick Boyd
Sartana joins forces with Sabata to defeat a crooked banker and a Mexican bandit.