A TRIPLE FEATURE!
THREE MOVIES ON A SPECIAL SINGLE DVD!
Three complete films from director Herman Yau! A collection of horrific stories about dumplings and body parts. All three movies are in widescreen format, Chinese language with removable Chinese and English subtitles.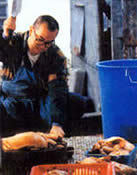 ·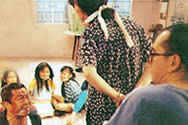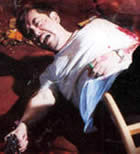 UNTOLD STORY (1992) [95 minutes]
director: Herman Yau with Danny Lee
starring: Anthony Wong · Danny Lee · Julie Lee · Emily Kwan
It's based on a factual event, the notorious crime of Wong Chi Hang who had slaughtered the restaurant owner and his entire family with a meat cleaver and proceeded to feed their bodies to unsuspecting patrons in the restaurant.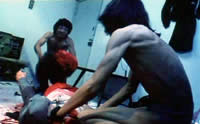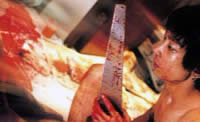 UNTOLD STORY 2 (1999) [91 minutes]
director: Herman Yau and Ng Yiu-Kuen
starring: Anthony Wong · Cheung Kam Ching · Paulyn Sun
The notorious story of cannibalism continues in this ultra-bloody sequel; trouble erupts in a Hong Kong family when they adopt a young woman from Mainland China. An unhappily married couple live with a beautiful cousin who has a horrifying experience before she moved into their home... She has a most unconventional (and savage) way of dealing with her problems.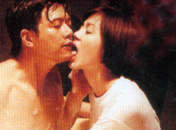 ·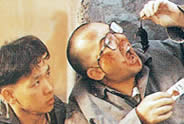 UNTOLD STORY 3 (2000) [107 minutes]
director: Herman Yau
starring: Danny Lee · Emily Kwan · Leung Cheuk-Moon · Michael Chow
The story of madness and bloodlust continues, starring and produced by Danny Lee. This film is based on a true story about a disembodied corpse found in a Hong Kong garbage dump. The killers are a gang of teenage boys who got caught up in the blood frenzy. The movie is constructed as a "true crime" expose (similar to DR LAMB and other HK thrillers from the nineties) with much emphasis on the brutality of the murder and the subsequent police investigation.
Note - this is the fully uncut 107 minute version of UNTOLD STORY 3 which includes a brutal rape sequence edited from Western prints of the film.
Graphic Violence/Adult Material/Nudity/
Rape/Gore/Sexual Brutality:
Viewer discretion is advised.