5-disc Box Set (5 uncut movies with over 2 hours of special features)

Enraged critics have dismissed these films as "rape thrillers appealing
to the most unpleasant of instincts" but the movies are, more accurately, darkly sinister works of art.


Package also features extensive interviews with the 3 fimmakers:
Noboru Tanaka, Toshiru Ikeda and Takashi Ishii.

[Disc 1] "Angel Guts: High School Coed' (1978) [Jokousei]
director: Chusei Sone - starring: Machiko Ohtani & Fukami Sansho
Violence erupts in a suburban high school after a pretty cheerleader
gets raped by a delinquent teen gang.
[Disc 2] "Angel Guts: Red Classroom" (1979) [Akai Kyoshitsu]
director: Chusei Sone - starring: Yuuki Mizuhara & Keizo Kanie
A journalist becomes obsessed with finding a "too-real rape victim"
of a classroom porno flick.
[Disc 3] "Angel Guts: Nami" (1978)
director: Noboru Tanaka - starring: Eri Kanuma & Takeo Chii
Noboru Tanaka, one of Nikkatsuˇs most respected directors, tells the story of a female journalist who finds herself in jeopardy when she investigates a series of violent rapes.
[Disc 4] "Angel Guts: Red Porno" (1981) [Akai Inga]
director: Toshiharu Ikeda - starring: Jun Izumi & Masahiro Abe
After a girl gets tricked into posing for an S&M photo session, she is stalked by a mysterious young man.
[Disc 5] "Angel Guts: Red Vertigo" [Dizziness] (1988) [Akai Memai]
director: Takashi Ishii - starring: Mayako Katsuragi & Naoto Takenaka The story follows a series of misadventures which put a young nurse in harmˇs way after she's raped by an embezzler.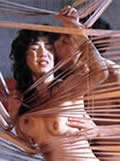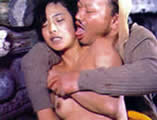 Japanese films; widescreen uncut (total running time 536 min.) version in DVD encoded for REGION 1 (US), playable on any American DVD machine; in Japanese language with removable English subtitles; bonus includes 7 interviews with directors, original sleeve art, original trailers and more.

Violence/Adult Material/Rape:
Viewer discretion is advised.