8 UNCUT "FILM TO DIE FOR" [Part 2]
CLICK HERE FOR PART ONE
AFTER DARK HORROR FEST
[PART 2]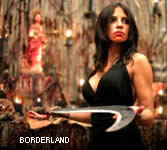 ··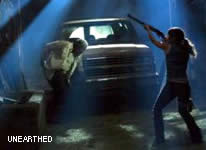 #1 BORDERLAND [unrated] (2008) 105 minutes [above]
director: Zev Berman
starring: Brian Presley · Rider Strong · Martha Higareda
A group of Texas University students are captured by an ancient
blood cult in a Mexican border town.

#2 UNEARTHED (2008) 93 minutes [above]
director: Matthew Leutwyler
starring: Emmanuelle Vauger · Luke Gross · Charlie Murphy
A vicious creature, trapped for 900 years, gets unleashed during
an archaeological dig in a desolate town.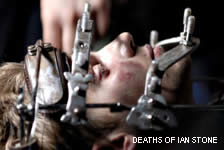 ·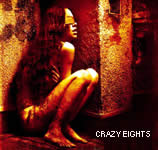 #3 DEATHS OF IAN STONE (2008) 87 minutes [above]
director: Dario Piana
starring: Mike Vogel · Jaime Murray · Christina Cole
A young man finds himself thrust into a vortex of death where he is destined to be brutally killed everyday until he can figure out why.

#4 CRAZY EIGHTS (2008) 80 minutes [above]
director: James K Jones.
starring: Traci Lords · Dina Meyer · George Newbern
Six people, gathered for the funeral of a friend, discover a time-capsule that reawakens a dead girl and her terrible secret.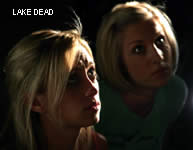 ·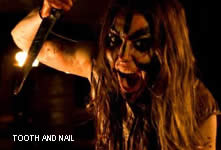 #5 LAKE DEAD (2008) 91 minutes [above]
director: George Bessudo
starring: Alex Quinn · Tara Gerard · Kelsey Crane
Three sisters go to the backwoods to claim a house inherited from
their grandfather but they become prey for psychotic rednecks.
#6 TOOTH AND NAIL (2008) 94 minutes [above]
director: Mark Young
starring: Rachel Miner · Rider Strong · Robert Carradine
A small group of post-apocalyptic survivors are attacked by
a band of cannibals.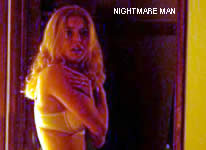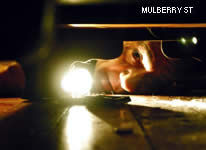 #7 NIGHTMARE MAN (2007) 90 minutes [above]
director: Rolfe Kanefsky
starring: Tiffany Shepis · Blythe Metz · Luciano Szafir
A young woman brings friends into extreme danger after she
is attacked by an evil being known as the Nightmare Man.
#8 MULBERRY STREET (2008) 84 min [above]
director: Jim Mickle
starring: Nick Damici · Kim Blair Ron Brice
A deadly virus turns residents into flesh eating zombies
while six tenants attempt to protect their crumbling apartment.
A deluxe Domestic Release of eight uncut American films on eight DVDs in a special box; encoded for REGION ONE NTSC, playable on any American machine; in English language with optional English or Spanish subtitles.

Graphic Violence/Adult Material/Nudity/Drugs/Gore:
Recommended for Mature Audiences