CLICK HERE FOR OTHER SANTO FILMS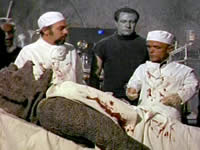 ·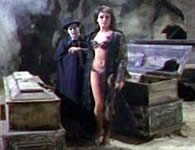 Mexican title: SANTO Y BLUE DEMON CONTRA LOS MONSTRUOS

director: Gilberto Martinez Solares
starring: Santo · Blue Demon · Carlos Ancira · Jorge Rado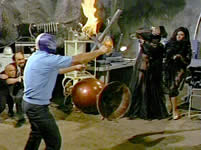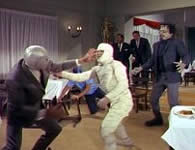 When disreputable Dr Bruno Halder dies, his devoted assistant Waldo (yes, a bald, hunchbacked dwarf) steals the body and takes it to a secret laboratory beneath a castle. Using the doctor's notes, Waldo manages to bring his master back to life. Once revitalized, Dr Bruno decides to take vengeance against his enemies (which include Santo) by resurrecting the Five Super Monsters of all time... the Frankenstein Creature, a Mummy, a Werewolf, a Vampire and an amphibious creature called Cyclops.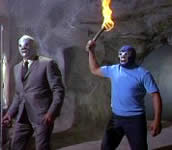 ·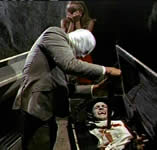 An Mexican Import; original screen format, uncut (82 minutes), encoded for ALL REGION NTSC, playable on any American machine; in Spanish language with optional English or Spanish subtitles.

·

Violence/Adult Material:
Viewer discretion is advised.