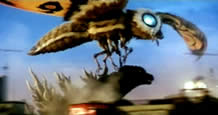 director: Masaaki Tezuka
starring: Noboru Kaneko · Miho Yoshioka · Katsuya Onizuka
Masami Nagasawa · Chihiro Ohtsuka · Koh Takasugi
Hiroshi Koizumi · Akira Nakao · Koichi Ueda

This direct sequel to 2002's GODZILLA AGAINST MECHAGODZILLA turns out to be a much better film. One year after the grand-slam fight between Godzilla and Mechagodzilla, the two monsters along with Mothra face off in a conclusive battle royale, smack-dab in the center of Tokyo.
The reason for all the mayhem· The Infant Island Fairies (or Shobijin as they're called this time around) have warned Japanese government that they can no longer use Mechagodzilla as a steel-plated guardian angel. Seemingly, the reason for this irritating news is because Mechagodzilla had been constructed from the bones of Godzilla and, as such, the bones are sacred and must be returned to the sea. The Shobijin twins guarantee that, if their word is heeded, Mothra will protect the country from rampaging Big G should the need arise. But as it turns out, things aren't quite that simple. And Mothra doesn't pack the wallop needed to stop Godzilla...

A Japanese film; widescreen uncut (101 min.) version encoded for REGION 1, playable on any American DVD machine; in Japanese or English language with removable English subtitles as an option; bonus includes Making-of, documentry on scoring "Godzilla S.O.S" and loads of trailers.

Violence/Adult Material/Gore : Viewer discretion is advised.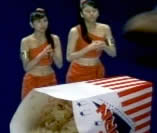 ·