THE COMPLETE KEKO MASK SERIES IN A BOXED SET!



FOUR FULL LENGTH MOVIES on FOUR DVDS
director: Takafumi Nagamine
starring: Juri Inahara · Shino Sait· · Moa Arimoto · Kenjiro Ishimaru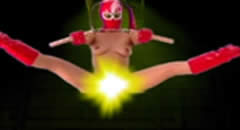 The series centers around Mayumi (Inahara), a young girl attending Manglifon School of Communication Arts because she wants to become a TV anchorwoman. Even though the school has a good reputation in the industry, it is a haven for sadists. When Mayumi falls behind in her schoolwork, she is mercilessly punished by her teachers. Mayumi is repeatedly rescued by female superhero Keko Mask [Kekko Kamen], a diva freedom-fighter (completely naked except for her cape), ready to battle the sadists with her most powerful weapon... a paralizing peek at her vagina!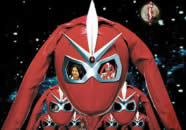 A domestic release of a Japanese series; widescreen (1.85:1), uncut (280+ min.) version in 4 DVDs encoded for REGION 1 NTSC, playable on any American DVD machine; in Japanese language with removable English subtitles.
Lots of bonus stuff.

Violence/Adult Material/Nudity/S&M:
Recommend for Adult Audiences