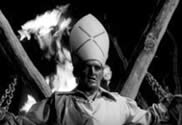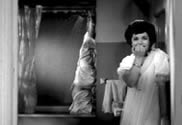 director: Chano Urueta
starring: Abel Salazar · Ariadna Welter · Ofelia Guilmain
Rosa Mara Gallardo · Rubin Rojo · Mauricio Garcia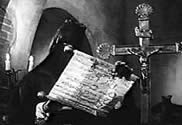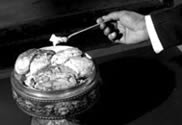 This year is 1661. Baron Vitelius stands accused of consorting with the devil. The penalty: death. Cursing his inquisitor as they burn him at the stake, the Baron's revenge comes 300 years later, in the form of a horrifying fork-tongued incarnation of the Baron, hell-bent on devouring the brains of the descendants of those who killed him. As bodies pile up, the police become mystified. Who is draining the skulls of local call-girls and well-to-do banquet-goers alike· And, more importantly, how many flame-throwers will it take to stop him· Brainac is the supernatural cult classic that has been beloved for decades by fans of spook-show matinees and late-night monster movie marathons.

An Mexican film; black'n white film; fullscreen uncut (77 min.) completely re-mastered version in DVD encoded for REGION 1 (USA), playable on any American DVD machine; in Spanish language with English subtitles; bonus includes an interactive digital press kit, original 1969 U.S. theatrical release radio spot, exclusive Casa Negra Loteria game card, cast & crew biographies and poster & stills gallery.

Violence/Gore/Adult Material/Nudity: Viewer discretion is advised.


·