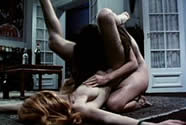 director: Jean Rollin aka Michel Gentil
starring: Jo·lle Coeur · Brigitte de Borghese · Britt Anders · Marie-France Morel · Annie Belle · Willy Braque · Catherine Castel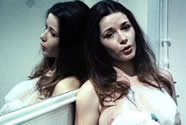 While looking for the earthly remains of Count Dracula, a professor and his young assistant are thrown into a surreal parallel universe where they encounter supernatural creatures, such as jester, his vampire lover, the scarlet She-Wolf, sorcerers, and a sensuous, baby-eating Ogress! Ultimately, the professor's quest leads to a confrontation with the beautiful Isabelle who is possessed by an unspeakable evil force and has the power to decide his fate.

A French film; widescreen (1.66:1), uncut (102 min.) version in DVD encoded for REGION 1 (USA), playable on any American DVD machine; in French language with English subtitles

For 18+ year old viewers only.
Adult Material/Nudity/Violence/S&M: Viewer discretion is advised.