Double Feature/Two Full Length Films
PART ONE AND PART TWO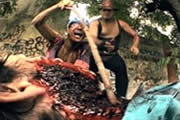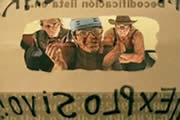 director: Pablo Pares and Herman Saez
starring: Berta Mueiz · Pablo Parés· Hernán Sáez
with: Alejandro Nagy · Paulo Soria · Esteban Podetti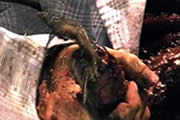 Disc 1: PLAGA ZOMBI (1997)

An alien virus being tested by FBI infects a small town, transforming people into killer mutant zombies. The FBI decides to isolate the town from the rest of the world. But this is a decision that a few survivors will not accept. A pro wrestler, a medical student, and computer nerd engage in brutal combat with thousands of zombies as they search for a map that contains details on the only existing exit.
Disc 2: PLAGA ZOMBIE 2: MUTANT ZONE (2001)
After initially escaping a zombie outbreak [in Film One], the three survivors of a zombie outbreak - Wrestler John West, medical intern Bill and a computer nerd named Max - are captured by the authorities and dumped back into the quarantined town. The three continue their quest to escape while fending off the flesh-eating undead.

Two Argentinean films, in Spanish with English subtitles; fullscreen (1.33:1), uncut (91 + 101 min), NTSC format,
playable on any American DVD machine;
extras included Plaga Zombie trailers


Graphic Violence/Nudity/Gore:
For Mature Audiences