The Hammer Collection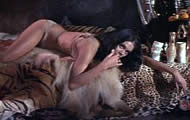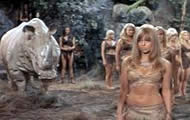 director: Michael Carreras
starring: Martine Beswick · Edina Ronay · Michael Latimer
Stephanie Randall · Carol White · Alexandra Stevenson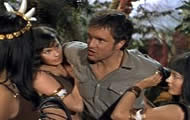 While on safari in Africa, big game hunter David Marchant (Michael Latimer) is captured by a hostile tribe and taken to a temple guarded by a statue of a white rhino. When a lightning bolt splits the temple wall, David runs thorough and enters a prehistoric world where he meets Seria (Edina Ronay), who is one of several fair-haired tribeswomen oppressed by a rival group of dark haired vixens led by the evil Queen Kari (Martine Beswick).

A UK film; widescreen (2.35:1) uncut (90 min.) version in DVD encoded for REGION 1 (USA), playable on any American DVD machine; in English language; bonus includes theatrical trailer, TV spots & "World of Hammer" episode entitled LAND BEFORE TIME

Violence/Adult Material: Viewer discretion is advised.