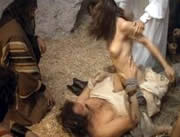 director: Gianfranco Mingozzi
starring: Florinda Bolkan · Mar·a Casares · Claudio Cassinelli
Anthony Corlan (aka Anthony Higgins) · Raika Juri · Laura De Marchi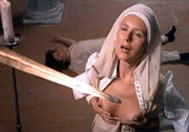 Flavia is a woman forced to live the life of a nun by her father. After witnessing injustices and questioning her own faith, she flees the convent in search of a better life. Her taste of freedom beyond the confines of the convent walls is cut short and she is soon recaptured, tortured and whipped for her defiance of the church. Befriending Sister Agathe, who shares her hatred of men, Flavia plots a rebellion. A bloody, violent confrontation ensues as she leads Muslim warriors to attack, rape and murder her friends in the convent. From a confused nun questioning her faith, to a violent dominating leader, Flavia's taste of absolute power comes at a dear price. Call FLAVIA THE HERETIC what you will... a bold statement on feminism and female independence or a just one of the goriest exploitation films ever made.

An Italian/French co-production; widescreen (1.78:1), uncut (101 min.) version in DVD encoded for REGION 1 (USA), playable on any American DVD machine; in English, language; bonus includes still gallery, liner Notes & video interview with the star, Florinda Bolkan.
For 18+ year old viewers only.

Violence/Adult Material/Gore/Nudity/S&M/Rape: Viewer discretion is advised.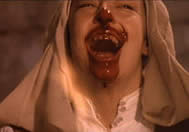 ·