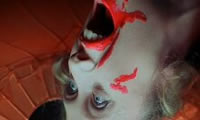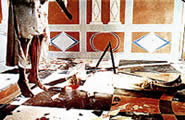 director: Dario Argento
starring: Jessica Harper · Stefania Casini · Flavio Bucci · Barbara Magnolfi
Susanna Javicoli · Eva Ax·n · Alida Valli · Udo Kier · Joan Bennett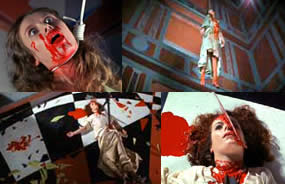 Suzy (Jessica Harper), a young American ballet dancer who arrives at a prestigious European dance academy run by the mysterious Madame Blanc (Joan Bennett) and Miss Tanner (Alida Valli). But when a series of bizarre incidents and horrific crimes (including what Entertainment Weekly calls 'the most vicious murder scene ever filmed') turn the school into a waking nightmare of the damned. Suzy must escape the academy's unspeakable secret of supernatural evil.

An Italian film; widescreen (2.35:1), uncut (98 min.) version in DVD encoded for REGION 1 (USA), playable on any American DVD machine; in English, Italian or French language; bonus includes theatrical trailer, TV spot, poster/still gallery, Daemonia music video & talent bios.


Violence/Gore: Viewer discretion is advised.

·