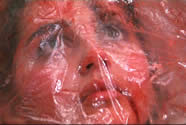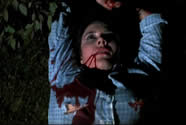 director: Lamberto Bava
starring: Andrea Occhipinti · Anny Papa · Fabiola Toledo
Michele Soavi · Valeria Cavalli · Stanko Molnar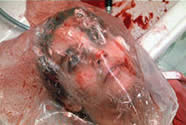 The shocking thriller from the director of MACABRE and DEMONS and the writer of CITY OF THE LIVING DEAD and THE BEYOND. Bruno (Andrea Occhipinti of NEW YORK RIPPER) is hired to compose the music for a new horror movie and rents an isolated villa to concentrate on his work. But when several beautiful young women are brutally murdered within the house, Bruno becomes obsessed with solving the savage crimes. Is a clue to the killer's identity hidden within the film itself, or is there a more horrifying secret lurking deep in the dark·

An Italian film; widescreen (1.85:1), uncut (104 min.) version in DVD encoded for REGION 1 (USA), playable on any American DVD machine; in Italian language with English subtitles; bonus includes theatrical trailer, "Behind the Blade" with the director and the writer & talent bios.


For 18+ year old viewers only.
Violence/Adult Material/Gore/Nudity: Viewer discretion is advised.

·