Both Uncut & Alternate Versions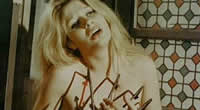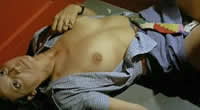 director: Renato Polselli
starring: Mickey Hargitay · Rita Calderoni · Tano Cimarosa
Christa Barrymore · William Darni · Steffy Steffen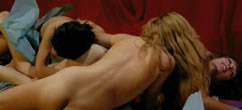 "Wonderfully sick and demented. A shining example of outrageous psychosexual perversity" - All Movie Guide. Criminal psychologist Dr. Herbert Lyutak (Mickey Hargitay of BLOODY PIT OF HORROR and THE WILD, WILD WORLD OF JAYNE MANSFIELD) is a deranged sex maniac who murders young women. His beautiful wife (Rita Calderoni of THE REINCARNATION OF ISABEL) is tormented by visions of medieval torture and lesbian orgies. But as their madness grows more twisted, they will descend even deeper into a nightmare of dementia, depravity and most of all, DELIRIUM!

An Italian film; widescreen (1.85:1), both uncut & alternate versions - uncut uncensored International version (102 min.) - alternate American version (85 min.) version; in DVD encoded for REGION 1 (USA), playable on any American DVD machine; (International Version) in Italian language with removable English subtitles (American Version) dubbed in English; bonus includesinterviews with writer/director Renato-Polselli and star Mickey Hargitay.


Graphic Sexuality/Violence/S&M/Rape/Adult Material/Gore: Viewer discretion is advised.

·
·