2 COMPLETE, LEGENDARY INDONESIAN MOVIES!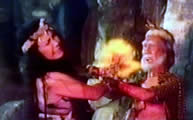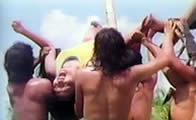 ·
#1 JUNGLE VIRGIN FORCE (1988)
director: Danu Umbara
starring: Lydia Kandou · Harry Capri · Torro Margens
Deep in the jungles of New Guinea, a savage tribe turns against a newly appointed queen and goes on a rampage against explorers from the mainland. (Indonesia)
Dubbed in English (Widescreen)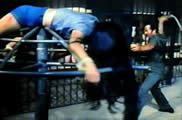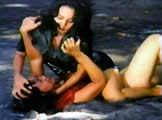 #2 ESCAPE FROM HELL HOLE (1989)
director: Maman Firmanstan
starring: Gudhy Sintara · Dicky Zulkarnaen · Siska Widowaty · Leily Sagita
Lots of torture, whippings and general S&M mayhem in this violent film about a women's prison (which also doubles as a brothel). The main focus is on a young virgin who catches the evil of the evil warden; she'd rather be punished than succumb to his sexual wishes. As a result, she's brutalized for most of the film.
Dubbed in English (Widescreen).

Two two complete Asian films; pressed on flipsides of same disc; uncut versions in DVD encoded for ALL REGION NTSC, playable on any American DVD machine

Graphic Violence/Adult Material/Gore/S&M:
Viewer discretion is advised