For other titles in this series
CLICK HERE
THE RETURN OF KUNG FU THEATER!
TWO COMPLETE MOVIES ON TWO DVDS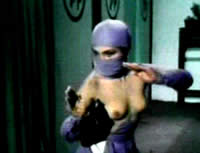 ·

Feature One:
SHAOLIN DOLEMITE (2004 edit of a 1986 film)
director: Robert Tai
starring: Rudy Ray Moore · Jimmy Lynch · Marilyn Joi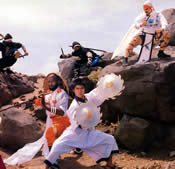 Yet another recut of director Tai's 12 hour (!) epic THE FINAL DUEL, with additional footage starring blaxploitation comedian Rudy Ray Moore. The story deals with Tupac of the Dolemite Clan stealing the magical Dolby Stereo Death Bell so he can destroy the Wu Tang Clan. But more importantly, it features Robert Tai's timeless camerawork and the legendary footage of a topless female kung fu fighter!
Double Feature; Domestic Release; encoded for ALL REGION 1, playable on any American DVD machine; in English language, with Robert Tai interview and trailers as bonus material.

Violence/Adult Material:
Viewer discretion is advised.