For other titles in this series
CLICK HERE
THE RETURN OF KUNG FU THEATER!
TWO COMPLETE MOVIES ON TWO DVDS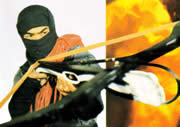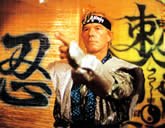 Feature One:
NINJA THUNDERBOLT (1985)
director: Godfrey Ho
starring: Don Wang Taoi · Richard Harrison · Shoji Kurata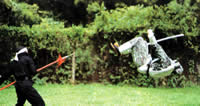 The theft of an antique jade statue from a mob boss drives the plot, but it's the usual whacked-out details that make the movie fun to watch... the robotic ninjas and their Bond-esque devices, a cute female insurance investigator who is also a martial arts master and cheesy Harrison as American DEA Agent Richard Lawman (yes,
Lawman
).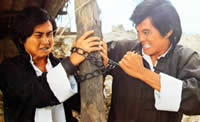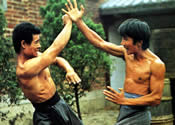 Feature Two:
INVINCIBLE HERO (MEAN STREETS OF KUNG FU) (1983)
director: Dao Yang
starring: Barry Chan · Chen Kueng
Challenged by a local gangster, a top martial arts student proves his skill and determination when he defeats the thug. The gangster retaliates by invading the school and raping a young female student. This unleashes a war between the students and the mobsters.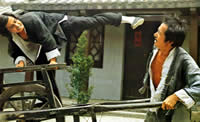 Double Feature; Domestic Release; encoded for ALL REGION 1, playable on any American DVD machine; in English language, with Don Wang Tao interview and trailers as bonus material.

Violence/Adult Material:
Viewer discretion is advised.