director: Kang Je-Gyu
starring: Jang Dong-Gun · Won Bin · Lee Eun-Ju · Kong Hyeong-Jin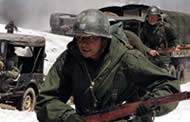 "This Korean wartime epic belongs to that brand of sweeping, conflict-era drama epitomized by SAVING PRIVATE RYAN and GONE WITH THE WIND," writes Robert K. Elder in the Chicago Tribune. ·"What makes TAEGUKGI such an extraordinary film isn't its solid, humane core or the choreographed chaos of its battle scenes·although both contribute. Instead, writer/director Kang Je-gyu dedicates himself to the human side of a grand tale, to people who've been uprooted by history." ··
In February 2004, TAEGUKGI broke South Korea's all-time box office record as it surpassed the sale of over 12 million tickets (that's equal to almost half the country's population!) An ultra-mega-blockbuster told via flashbacks, offering up one man's story of his peaceful life in South Korea of the '50s, before North Korea invades his country resulting in he and his brother getting drafted. This is the story of their painful call to duty... their transformation from civilians to soldiers.
This is strong cinema (rated Category III for excessive and brutal scenes of war violence) punctuated by fierce and unrelenting battles, including the "worst of times" when they run out of food and ammunition and begin to die slowly.

Korean import; widescreen uncut (140 min.) version in DVD format, encoded for ALL REGIONS, playable on any American DVD machine; in Korean language with removable English or Korean subtitles as an option.

Violence/Adult Material/Gore : Viewer discretion is advised.
·