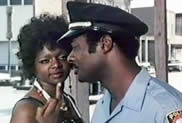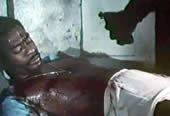 director: William A. Graham
starring: Ahmad Nurradin · Anthony Wilson · Nelson Sims
Owen Pac · Kim Dorsey · Ed Bernard · Lincoln Kilpatrick
A cast of unknown actors (not including Lincoln Kilpatrick who delivers one of his bravest performances), gives this movie a documentary feel. TOGETHER BROTHERS is one of a handful of feature films directed by William Graham; before and since, he's enjoyed a lucrative career in network television, ranging from BATMAN and THE FUGITIVE (in the '60s) to X-FILES (in the '90s). ·The plot here is simple. When a well-liked police officer is found brutally murdered, a gang of urban teens band together to find the killer. The younger brother of one saw the murder and was almost killed in the process. Traumatized by the incident, the boy is mute, adding suspense when the killer stalks him. Adding to the atmosphere, underscoring the movie's dark visuals, is the only soundtrack ever composed by funkmeister Barry White.


An American film; widescreen, uncut (94 min.) version in DVD encoded for ALL REGIONS, playable on any American DVD machine; in English language.

Violence /Adult Material : Viewer discretion is advised.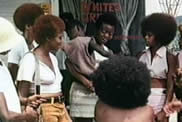 ·