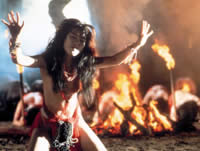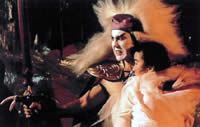 4 COMPLETE MOVIES IN 4 DVD PACKAGE!

[1] THE EROTIC GHOST STORY (1990) director: Ivan Lai
starring Amy Yip · Ha Chia Ling · Man Su
Wutung is a demon. When visiting the Earth's netherworld, he is attracted to three beautiful ghost/fairies (one of them is voluptuous Amy Yip). Disguised as a scholar, he seduces the three fairies with surprising results.
[2] THE EROTIC GHOST STORY 2 (1991) director: Peter Ngor starring: Anthony Wong · Tsang Siu Yin · Claire Chan
Wutung transports himself into another body and is now called Chiu-Sheng (Anthony Wong). He seduces a mortal named Hsiao-Yen. Heaven sends two militant fairies to stop the relationship.
[3] THE EROTIC GHOST STORY 3 (1992) director: Ivan Lai
starring: Pauline Chan Bo-Lin · Noel Chin · Shing Fui On
Monsters and cannibalism are added to the mix for this episode, but Wutung is gone. In this one, a young couple takes refuge in a haunted temple during a thunderstorm where they meet "the keeper of the flame," a monk who has the ability to transport them into a magical kingdom of sexual pleasure (and something quite terrible).
[4] THE EROTIC GHOST STORY 4 (1997) director: Lam Yee-Hung
starring: Elvis Tsui · Diana Pang · Kung Ka Ling
Two sister ghosts decide to visit the mortal world but they neglect to tell guardian of their decision leaven heaven. Alone on their journey, they experience love, magic and adventure as the two fairies seek their perfect match.

HK import; all movies are fully uncut, widescreen versions in DVD encoded for ALL REGIONS; playable on any American DVD machine; Chinese language with removable English subtitles.

Violence/Adult Material/Rape: Viewer discretion is advised.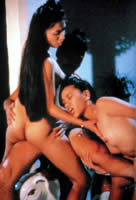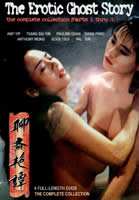 ·