director: Ryu Seung-Wan (Ryu Seungwan)
starring: Ryu Seung-Buom · Yun So-Yi
Ahn Seong-Gi · Jung Doo-Hong · Ju-sang Yun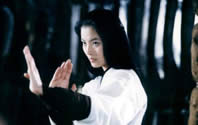 This amazing urban martial arts frenzy (from director Ryu, best known for his incredible NO BLOOD NO TEARS) won the grand prize at the 2004 Puchon International Fantastic Film Festival. The cast includes his brother Seung-Bum in the lead role and Jung Doo-Hong from Resurrection of the Little Match Girl as Heuk-woon. fter getting beaten up by some local gangsters, a brash young cop, Sang (Ryoo Seung-Bum), is visited by "the Seven Masters" who offer to bestow the secret of supernatural strength upon him. "We will even teach you how to shoot energy from your palms," they tell the young man. Sang is skeptical but then he's suddenly paired with a new female partner, the beautiful and tough Wi-jin (Yoon So-yi), a woman destined to "become Arachi." Meanwhile, the Master of Absolute Evil has escaped from a prison sealed by the Masters. Sang and Wi-jin are ordered to recaptured the villain to prevent the world from chaos.

Korean import; widescreen uncut (114 min.) version in DVD format, encoded for ALL REGIONS, playable on any American DVD machine; in Korean language with removable English, Korean or Chinese subtitles as an option.

Violence : Viewer discretion is advised.
·