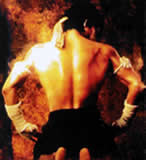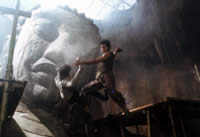 director: Prachya Pinkaew and Panna Rittikrai
starring: Phanon Yeerum (Tony Ja) · Mum Jok Mok
Rungrawee Barjindakol · Suchao Pongwilai
Don Ferguson · Chatewut Watcharakhun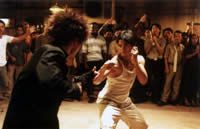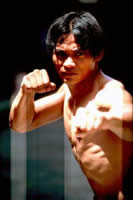 ONG-BAK is a masterpiece that every Asian Cult fan must see! This may be the greatest martial arts film of all time. It's certainly the best action/fighting movie of recent memory. REAL action! No irritating wires, no disjointing cuts, no camera tricks, no comedy relief, no stuntmen, no CGI, NO SPECIAL EFFECTS! Plus the camerawork is remarkable. You'll see full continuity sequences from jump to hit to fall... be it a kick to the chest, a blow to the head... all in continuous shots. It's a miracle that these guys could pull this thing off without anyone getting hurt.
The story is simple, but effective in typically Martial Arts fashion. Some nasty thieves steal the head of a Buddha statue from a countryside temple where an ordination ceremony is scheduled to take place next week. Villager tough-guy Boonting (Tony Ja) accepts the job of tracking down the culprits and retrieving the religious artifact. However, the righteous road is extremely dangerous and crowded with lots of very bad people.

Thailand film; widescreen, uncut (105 min.) version in DVD encoded for ALL REGIONS, playable on any American DVD machine; in Thai language with English subtitles; bonus includes alternate ending, deleted scenes & more.

Violence/Adult Material: Viewer discretion is advised.