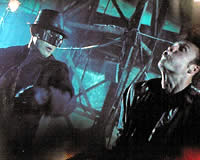 director: Daniel Lee
starring: Jet Li · Ching Wan Lau · Karen Mok · Francoise Yip
Patrick Lung · Anthony Wong




FULLY UNCUT IMPORTED DVD (WITH THE ORIGINAL TEN MINUTES MISSING FROM THE AMERICAN PRINT) For years, rumors have existed about a longer, sexier (S&M laden), more violent version of Jet Li's Black Mask... here it is! Now you can see the movie as it was planned, with all the edited footage intact, plus the original soundtrack.
Jet Li stars as a former member of an elite fighting unit called the 701 Squadron, soldiers who had their nervous system numbed to make them fight without the sensation of pain. When the project is scheduled for termination, Li escapes to Hong Kong where he lives as as a librarian recluse. However, he soon discovers that his former comrades are using their superhuman skills to take over the Chinese drug market. Li dons a black mask to hide his identity and goes on the offensive.
HK import; fullscreen, uncut (98 min.) version in DVD encoded for ALL REGIONS, playable on any American DVD machine; in Cantonese language with English and Chinese subtitles.

Violence/Adult Situations/S&M:
Viewer discretion is advised.