·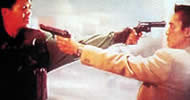 director: John Woo
starring: Chow Yun Fat · Tony Leung · Teresa Mo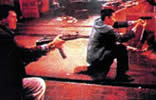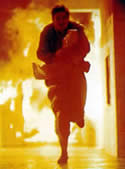 John Woo's epic action film! The story of two cops who mastermind an all-out assault on the Triad's secret hideout, an arsenal hidden away in the basement of a busy hospital. Many critics have christened this film "the best Hong Kong action/gunplay movie of all time" and "easily the best action film made by any director in the world." No other HK movie compares to HARDBOILED for sheer bombastic exuberance. It's an amazing example of action theatrics. Never before (nor since) have so many incredible stunts, wild gun battles or jarring explosions been accumulated in one package!
Special DVD with running commentary (in English)
by director John Woo.
HK import; widescreen uncut (126 min.) version in DVD encoded for ALL REGIONS, playable on any American DVD machine; in Chinese language with removable English or Chinese subtitles; extras including director's commentary, theatrical trailers & etc.

Violence/Adult Situations:
Viewer discretion is advised.