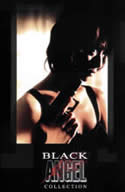 ·

director: Takashi Ishii
2 MOVIES IN A DOUBLE PACKAGE!

·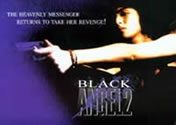 [BLACK ANGEL 1] starring: Riona Hazuki · Reiko Kataoka · Kippei Shiina · Yoshinori Yamaguchi · Miyuki Ono - A violent, ultra chic story of young Ikko (Riona Hazuki) befriended by the legendary hitwoman, Black Angel. Ikko's seeking vengeance involves them into a war against Japanese underworld.
[BLACK ANGEL 2] starring: Yuki Amami · Reiko Kataoka · Takeshi Yamato · Yozaburo Ito - The Black Angel, legendary hitwoman, must choose between her life and her love when she is assigned a job against a top crime boss in this ultra-chic, violent sequel. -
Widescreen version in Japanese language with English subtitles or English voice over as an option, in DVD format encoded for REGION 1 (North America,) playable on any American DVD machine.

Violence/Adult Situations:
Viewer discretion is advised.