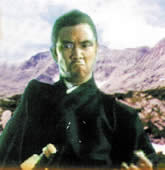 director: Kimiyoshi Yasuda
starring: Shintaro Katsu · Jimmy Wang Yu

Zatoichi, the legendary blind swordsman, rescues a young boy who had been a victim of a samurai massacre. While traveling with the child, he encounters Wang Kong, the one-armed swordsman (a hero from China who had been misjudged and labeled a bandit). With a bounty on Wang's head, mistrust and deception grow as the local town boss sees his opportunity to gain power. With their two different languages as a barrier between them, the two swordsmen are destined to meet in a battle to the death...

Cambodian import; widescreen, uncut (94 min.) version in DVD encoded for ALL REGIONS, playable on any American DVD machine; Japanese language with English subtitles.

Violence/Adult Themes:
Viewer discretion is advised.