THE ENTIRE "BABY CART" SERIES (6 DVD PACKAGE)
directors: Kenji Misumi · Takeichi Saito · Yoshiyuki Kuroda
starring: Tomisaburo Wakayama · Akihiro Tomikawa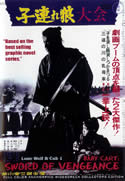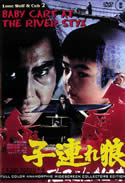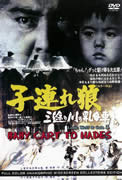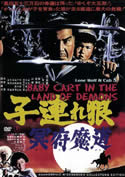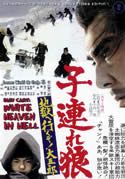 Itto Ogami is the official decapitator for the shogunate. His prestigious position is the envy of the royal Yagyu clan who aren't satisfied with their own political stature. In their quest for power, they plant evidence implicating Ogami of treason. His wife gets killed in a subsequent fray, leaving the warrior to care for his new-born baby while escaping to the badlands. Itto Ogami pushes his child Daigoro in a wooden cart all over feudal Japan, leaving a trail of bloodied bodies and severed limbs in his wake. he'd become the infamous Lone Wolf, a hired killed who will take a case for 500 gold coins or a chance to get revenge against the powerful Yagyu family.

Japanese import, full color widescreen prints in DVD format, encoded for ALL REGION, playable on any American DVD machine, in Japanese language with removable English subtitles.

Violence/Adult Material/Gore:
Viewer discretion is advised.