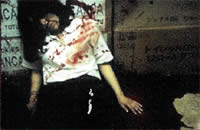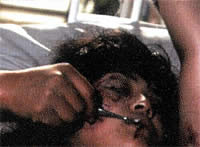 director: Katsuya Matsumura
starring: Yuji Kitagawa · Kanori Kadomatsu ·
Tomoroh Taguchi
This is the best of the trilogy. But it's also the most difficult to watch, relentless in its cruelty. While the plot is similar to the previous entries, the major difference lies in the characterizations. This one has NO "good guys," there's not a trace of humanity anywhere.
A high school student develops an unhealthy obsession for a neighborhood girl. He begins ferreting through her trash, as well as eating and drinking her leftovers. But his obsession doesn't stop there...
Widescreen, uncut/uncensored version, Japanese language with removable English subtitles, in DVD format, encoded for REGION 1 (North America,) playable on any American DVD machine.

Violence/Adult Material/Gore: Viewer discretion is advised.