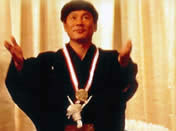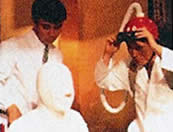 director: Beat Takeshi Kitano
starring: Dancun · Beat Takeshi Kitano
Akio Yokoyama · Moeko Ezawa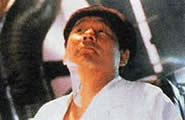 "An underrated and overlooked masterpiece by director Takeshi Kitano."

Takimoto Makoto Asao (Dancun) is obsessed with the idea of having wild sex in his car. But first, he figures, he's got to have a car. And, it's gotta be the kind of car that would attract the type of girl who would want to have sex in a car. But where's he gonna get the money to buy such a car· Well, Asao sell his grandfather's kidneys and liver. He's still short on cash... so tries to rob a bank, then steals a Brinks truck, becomes Zatoichi, joins the Yakuza. After none of that works, he decides to become an invisible man (so he can sneak into a woman's bathhouse undetected). That's when he meets a scientist (Kitano) who agrees to help him. However, the experiment is a failure, and Asao becomes a human insect of Godzilla proportions...

HK import; widescreen, uncut (110 min.) version in DVD encoded for ALL REGIONS, playable on any American DVD machine; in Japanese language with removable English or Chinese subtitles as an option. This title is Category III, intended for viewers over 18 years of age.


Violence/Adult Material: Viewer discretion is advised.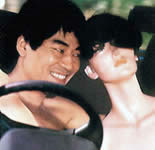 ·